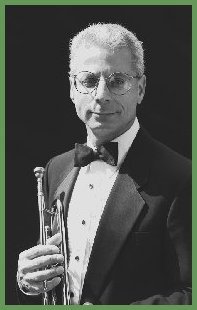 David is an accomplished trumpet player in constant demand throughout the New England area. Over the years he has worked with Arthur Fiedler, Sandler and Young, Phyllis Diller, Henny Youngman, Ray Bolger and others. If it's jazz, swing, and dance music you're looking for, David would be happy to help you plan the music for your event. ( wedding, corporate meeting, etc.)
Dixieland
David leads a dixieland quintet that has garnered rave reviews and features virtuosos on tuba, clarinet, trombone, banjo, and trumpet. It's darn near impossible to stay still while listening to this group. "...truly music to make you happy."


Polansky One Man Shows:
Music Through the Decades - commissioned by the Norman Rockwell Museum, this program showcases the pop music inspired by what was happening in America from 1895 through 1960. (e.g. Gay 90s, The Automobile, WWI, Dixieland, The Great Depression, WWII, The Atomic Age, more)
America The Beautiful in Song - David not only leads you in this musical tribute to the Land of the Free, but also tells stories about the inspiration of some of America's most beloved patriotic pieces.
Fifty-Plus Years of Broadway - a musical journey made up of many of America's favorite broadway hits over an almost sixty year period that goes from 1921 to 1978.
From the Shtetl to the Promised Land - Songs in Hebrew, Yiddish, and English....some from Eastern Europe; some from Yiddish theater; modern sources (e.g. Fiddler on the Roof) All the favorites.
Erin Go Bragh - Songs from and about Ireland - Gloccamora, Danny Boy, I'll Take You Home Again, Kathleen, many more. The show is at times funny, at times poignant - always entertaining.
Family Holiday Singalong - songs for Christmas, Hannukah, and Kwanzaa, and winter favorites. Takes requests - for EVERY age. Very warm and fuzzy.
Wild West Cabaret - An hour's worth of all your favorite cowboy and related songs. (Don't Fence Me In, Buttons and Bows, Oklahoma, She'll be Comin' Round the Mountain, more.)
Intergenerational Show - a mix of music which taps the Great American Songbook (Gershwin, Porter, Carmichael) and perennial kid favorites. The seniors love to see the little kids react to the music.